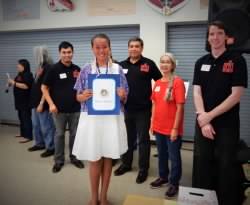 NPIEN annually recognizes students, educators, and community members for their academic achievements and service to the Pacific Islander community. Each honoree receives a medallion, plaque, and proclamations from their respective legislators.
Christina Diaz Student Scholar Awards
The Christina Diaz Student Scholar Awards named after the late Christina Diaz, long-time NPIEN supporter and conference vendor, Ray's Silvercrafts, Gourds, and Christina's Hawaiian Soaps recognize Pacific Islander students, grades 6-12, who were nominated by their teacher or counselor for achieving a minimum 2.5 GPA, outstanding or improved attendance, outstanding or improved grades, academic honors, participation in extracurricular activities, leadership ability, or service in school clubs, church, or the community.
Christina Diaz Scholar Application
2017 AWARDS RECIPIENTS
2016 AWARDS RECIPIENTS
2015 AWARDS RECIPIENTS
2014 AWARDS RECIPIENTS
2013 AWARDS RECIPIENTS
2012 AWARDS RECIPIENTS
2011 AWARDS RECIPIENTS
2010 AWARDS RECIPIENTS
2009 AWARDS RECIPIENTS
2008 AWARDS RECIPIENTS
2007 AWARDS RECIPIENTS
2006 AWARDS RECIPIENTS
NPIEN's Sevia Ma'ae Educator Award
The late Sevia Ma'ae was a gifted and talented education (GATE) program teacher in the Lynwood Unified School District and founding NPIEN Board Member. Educators selected for this award have shown outstanding dedication and service to Pacific Islander students and the community.
Sevia Ma'ae Educator Award Application
NPIEN's Dr. Alofa Tanuvasa Community Award
Named after the late Dr. Alofa Tanuvasa, founding NPIEN board member and a teacher in the Compton Unified School District and promoter of the education in the Pacific Islander community, these awards are given to organizations or individuals who have shown exemplary for NPIEN and its programs.
Dr. Alofa Tanuvasa Community Award Application Application